Welcome to the Spirit Lake Seventh-day Adventist Church Website!
You can find out a lot about what is happening in our church by checking out the pages on our website. We hope that you will join us for worship on Saturday morning or can attend one of our many events, to experience an authentic, growing, and vibrant relationship with God and fulfill His purpose for your life. We connect with God in prayer, scripture, song, and study, to grow spiritually and relationally.
The Great Commission, Matthew 28:18-20
18 And Jesus came and spoke to them, saying, "All authority has been given to Me in heaven and on earth. 19 Go therefore and make disciples of all the nations, baptizing them in the name of the Father and of the Son and of the Holy Spirit, 20 teaching them to observe all things that I have commanded you; and lo, I am with you always, even to the end of the age." Amen.
Sabbath Program
If you would like to see program bulletins for each Sabbath, they are published online at the end of the week in the Resources section of the website. Click here to view them.
Local and Area Church News
For information on how the Upper Columbia Conference is responding to COVID-19 pandemic, follow this link: https://www.uccsda.org/English/Com/Pages/coronavirus_response.aspx
Message of Hope
"I was praying for our churches and schools recently and the Lord gave me the following verse:
Have mercy on me, my God, have mercy on me, for in you I take refuge.
I will take refuge in the shadow of your wings until the disaster has passed.
~ Psalm 57:1
"I want to encourage you all that God is in control. I pray that this verse serves as an encouraging message for all church members, students and school faculty in UCC."
—Minner Labrador Jr.
President
Upper Columbia Conference
Sabbath Services: We are steaming our Sabbath Services for those who are not able or comfortable to attend in person at this time. You can click the link above or right here.
Prayer Meeting: Join us for Prayer Meeting, 6:30-7:30pm on Wednesdays. We are once again meeting in the church for Prayer Meeting. However, we want everyone to feel comfortable and welcome to attend Prayer Meeting. If you are not able or comfortable to attend in person, please let one of the elders know and we will make accommodation so that you can attend remotely.
Sunday Morning Prayer Time: Sunday morning we will have a prayer call at 8:30am. The main focus of our prayer time will be the upcoming evangelistic series, but if you have an additional request please make it known or include it during your prayer.
To join the SUNDAY MORNING PRAYER TIME, call 253-215-8782. Meeting ID 501 512 994.
Even being back in the church, we are still not passing the basket for offerings. There is a box at the back of the sanctuary that you can drop your offering or tithe envelope into. You can still use the link for online giving at the top of this page. Alternately, you can mail a check to our post office box (P.O.Box 250), or place it in the treasurer's mailbox inside the church building. Any loose offering in the box at the back of the sanctuary will be used according to the Upper Columbia Conference Offering Schedule, displayed below. We will also not be passing the envelopes during Sabbath School. If you wish to give a Sabbath School offering, please place the offering in a tithe envelope and mark the amount for Sabbath School Missions or Sabbath School 13th Sabbath as appropriate.
Upper Columbia Conference offering schedule:
May 2, Local Church Budget

May 9, Adventist Community Services Disaster Response

May 16, Local Church Budget

May 23, UCC Advance

May 30, Local Church Budget

June 6, Local Church Budget

June 13, Local Church Budget

June 20, Local Church Budget

June 27, UCC Advance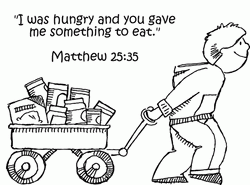 Please remember to bring items to fill the basket at the church entry.