Welcome to the Spirit Lake Seventh-day Adventist Church Website!
You can find out a lot about what is happening in our church by checking out the pages on our website. We hope that you will join us for worship on Saturday morning or can attend one of our many events, to experience an authentic, growing, and vibrant relationship with God and fulfill His purpose for your life. We connect with God in prayer, scripture, song, and study, to grow spiritually and relationally.
The Great Commission, Matthew 28:18-20
18 And Jesus came and spoke to them, saying, "All authority has been given to Me in heaven and on earth. 19 Go therefore and make disciples of all the nations, baptizing them in the name of the Father and of the Son and of the Holy Spirit, 20 teaching them to observe all things that I have commanded you; and lo, I am with you always, even to the end of the age." Amen.
Everyone is welcome!
9:00am Prayer Time
9:15am Welcome and Superintendant's Remarks followed by Sabbath School
10:30am Intermission
10:40am Sabbath Worship Service
Following Sabbath Service, you are invited to join our fellowship potluck!
If you would like to see program bulletins for each Sabbath, they are published online at the end of the week in the Resources section of the website. Click here to view them.
Parking lot improvements have been made, but your cooperation is needed. Because of increased attendance, please park courteously and observe reasonable distances between neighboring cars when you park your vehicle.
Local and Area Church News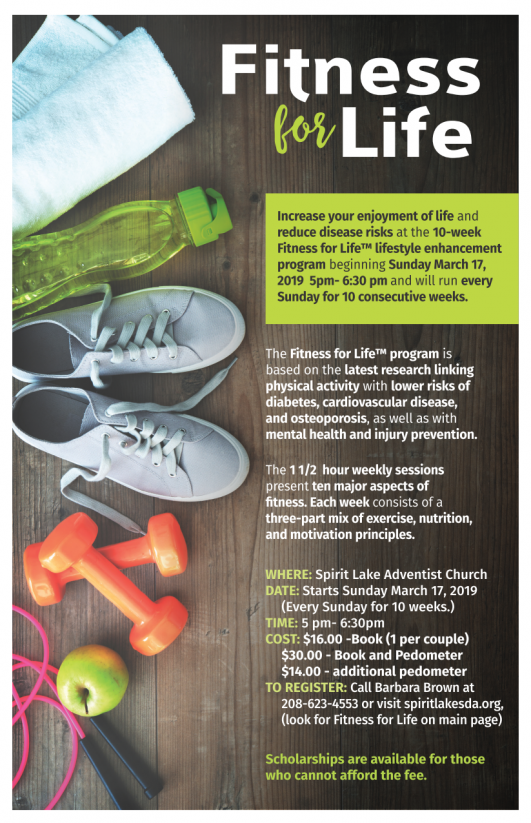 DO YOU WANT TO ENJOY FITNESS FOR LIFE?
Increase your enjoyment of life and reduce disease risks at the 10-week Fitness for Life™ lifestyle enhancement program beginning Sunday March 17, 2019  5pm- 6:30 pm and will run every Sunday for 10 consecutive weeks. 
The Fitness for Life™ program is based on the latest research linking physical activity with lower risks of diabetes, cardiovascular disease, and osteoporosis, as well as with mental health and injury prevention.
The 1 1/2 hour weekly sessions present ten major aspects of fitness. Each week consists of a three-part mix of exercise, nutrition, and motivation principles.
There are handouts and people can expect a fun time as well as lots of useful information at each session. Bring a friend, even people in wheelchairs will find appropriate activities for fitness enhancement.   The nutrition support is excellent and the help to overcome roadblocks may be what most of us need.  A 10-week Fitness Log provides a place to record weekly progress.
The program is a community service of the the Spirit Lake Adventist Church. To help offset the Materials there is a small fee for attending the seminar. Registration is $16 for full color book (1 per couple)  $30 for book and pedeometer. (if you have an activity tracker, or what to purchase one yourself you don't need this)  $14 each additional pedometer.  Scholarships are available for those who cannot afford the fee. For more information or to register for the program, please call Barbara Brown at 208-623-4553.  Or click here.
Vacation Bible School
This year our Vacation Bible School will be June 24-27!
Mark you calendars for these wonderful upcoming speakers:
April 6, Sounds of Praise Singers

April 13, Kenny Campbell

April 20, Wayne Kablanow

April 27

May 4, Olaf Betat

May 11, Robert Mason

May 18, Wayne Kablanow

May 25

June 1, Olaf Betat

June 8, Robert Mason

June 15, Wayne Kablanow

June 22

June 29, Wayne Kablanow
Upper Columbia Conference loose offering schedule:
April 6, Local Church Budget

April 13, Christian Record Service

April 20, Local Church Budget

April 27, Share the Life

May 4, Local Church Budget

May 11, Disaster and Famine Relief

May 18, Local Church Budget

May 25, UCC Advance

June 1, Local Church Budget

June 8, Local Church Budget

June 15, Local Church Budget

June 22, UCC Advance

June 29, Alaska Conference
Loose Offerings and Tithe Envelope
Our local Church Board has voted to return to using the schedule provided by the Upper Columbia Conference for loose offering. Any loose offering the church receives will be allocated as indicated on the above schedule. Should you wish to donate to a particular fund, you may put your donation into a Tithe Envelope and mark which fund and the amount of your donation to that fund. We hold sacred the duty to see that the funds are used in the purpose for which they were generously given. If you have concerns regarding this decision, please bring them to any member of our local Church Board.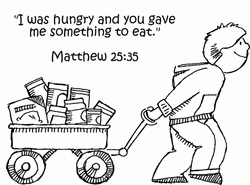 Please remember to bring items to fill the basket at the church entry.